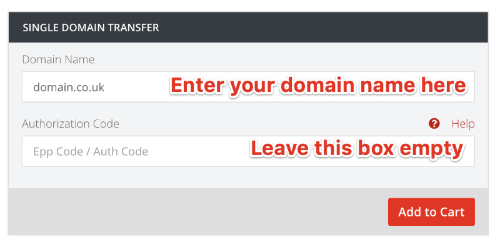 Transfering  a .UK  or .CO.UK domain to Channel Island Hosting is simple
When transferring a .co.uk domain name to Channel Island Hosting, the process is a little different to other extensions. You will not be provided with an EPP or Authorisation code so you can leave this box blank. Instead, when you have initiated the transfer, you will need to update the IPS Tag of your name in the current registrar.
Simply set  REGISTRAR-EU  as the new IPS Tag and the name will be pushed into your account here.
As with all transfers, please make sure your Nameservers are set correctly when setting it up in your control panel. 
If you have any difficulties, please open a support ticket and we will assist where possible.
Transfering  a .UK  or .CO.UK domain from Channel Island Hosting to another Registrar
To transfer your .CO.UK or .UK domain registration to a different registrar, simply create a Channel Island Hosting support ticket in your client area, advising us of the IPS Tag for the new registrar and the date you would like the change to be made on.  We will update the domain settings on your behalf and advise you when completed.  This will then unlock your domain registration and allow your new registrar to import it into their system.